Rolling Stock 4.0 TechTalk Webinar Series 2022
Optimising Rolling Stock Asset Management With Advanced IoT, BIG Data And Predictive Maintenance
Dedicated To Delivering The Rolling Stock Maintenance Sectors Best Content-Lead, Train Operator Driven, Technical Discussions For Chief Maintenance Engineers, Solution Providers & Technologists. The Industries Pioneering Webinar Series Is Back This June Addressing Critical Issues, Strategies And Technologies That Are Shaping The Future Of Digitalized Maintenance.
Optimising Smart Data Through harnessing the IoT for cost efficient predictive maintenance & fully optimised asset management

Maximising The Benefits of Big Data For Asset Management Using Digital Twins

How To Mitigate The Big Data Cyber Security Risk

Data-Driven Lifecycle Optimisation

Digital Asset Management For Rail Systems – A Holistic Approach For Improved Asset Performance

How Can The Latest Innovations Drive The Reduction Of Rolling Stock Maintenance Costs

Combining Condition and Prediction Based Maintenance Regime To Deliver Success – Delivering Results On Cost Reduction, Fleet Reliability & Efficiency

Vehicle Monitoring Vehicles – Predictive Methods From Vehicles Systems Diagnostic Data

Turning Data Into Actions To Improve The Efficiency Of Operations And Maintenance Execution, Innovative Dynamic Maintenance Planning Programme: Leveraging 'Big Data & IoT To Innovate Rolling Stock Maintenance

On-board Real Time Data & Metrics, High Level Dashboards And Alerts To Monitor Operational Performance For Informed Operational And Strategic Decisions

Utilising The Data From Sensors That Are Already Installed In The Vehicle Subsystems; Pressure, Temperature And Acceleration Sensors
Automated Visual Inspection: Data Insight for Greater Vision

Maximising The Benefits Of Big Data For Asset Management

How Can We Measure The Benefits Of Digitalisation Within The Railway Industry?

How Wayside Is Being Used: Bogie Condition Monitoring

Is Your Workshop Already Digital? How To Make The Most Of Integrated Rolling Stock Maintenance

Wheelset Management Using Accurate Realtime Information

Successfully Implementing Lean & Cost-Effective Predictive Maintenance Strategies Simultaneously

Best Practice Application Of Condition Based Maintenance & Making Better Use Of Existing Technology 

How Digitalisation Is Essential To Strengthening The Sustainability-Related Assets Of Rail

Optimising Rolling Stock Asset Management With Advanced Predictive Maintenance Solutions, Data Set Analysis, IoT & Industry 4.0

Collision Avoidance Systems: Environment

Distributed Acoustic Sensing (DAS) For Railway Monitoring Observation Technology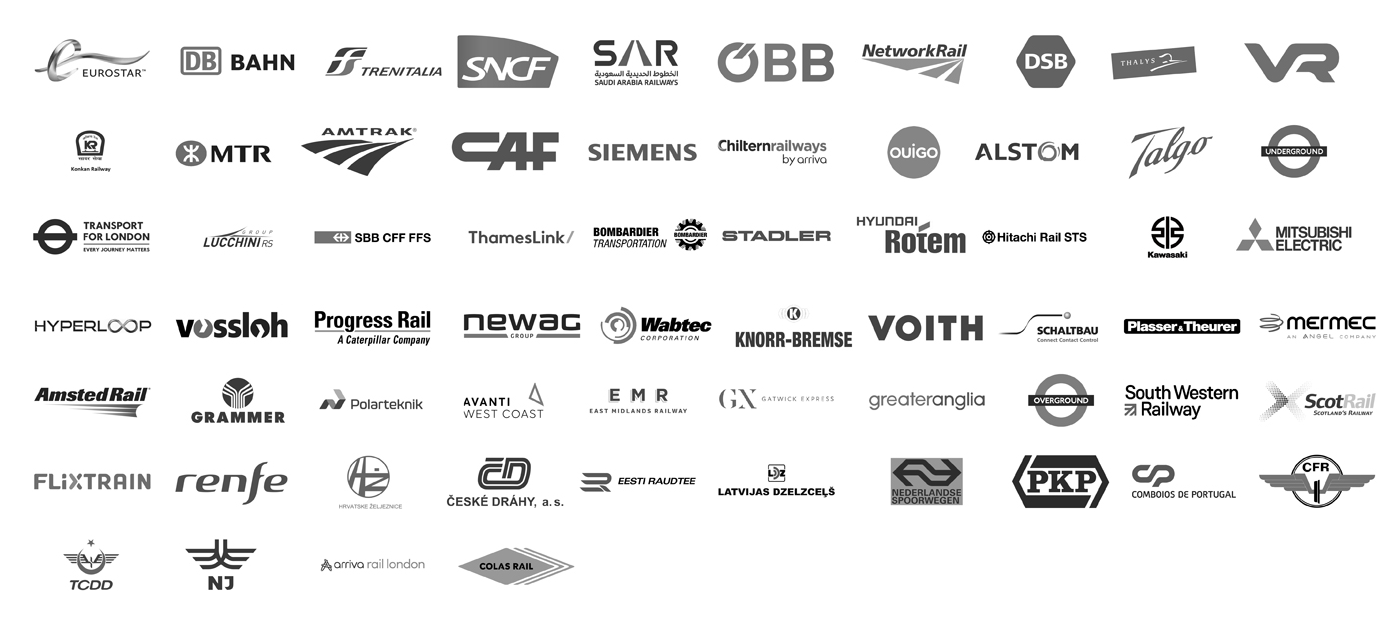 Directors of Maintenance, Directors of Asset Management, Head of Technology, Directors of Operations, Heads of Remote Diagnostics, Directors of IT & Strategy, Chief Information Officers, Heads of Data & Analytics, Directors of Procurement, Heads of Rolling Stock, Infrastructure Asset Managers, Chief Technology Officers, Directors of Infrastructure, Heads of Smart Maintenance, Chief Innovation and Digital Officer, Managers of Asset Information, Directors od Data Intelligence, Chief Information Officers, Managing Directors, General Managers, Heads of Smart Maintenance, CMO, Infrastructure Managers, Director of technology and Innovation, Managers of Asset Information, Consultants – Data and Digitalisation, CMO, Head of Data and Analytics, Chief Innovation & Digital Officer, CEO's, Heads of Enterprise Architecture, Directors of Rolling Stock Engineering & Maintenance, Maintenance Planning and Control, Directors of Technology and Innovation, Chief Technology Officer, Data Scientists, Manager of Asset Information
Rolling Stock 4.0 & Track & Infrastructure 4.0 Webinar Sessions  

How Wayside Is Being Used: Case Study By VLI S.A. Of Bogie Condition Monitoring


Prescriptive Analytics & Industrial AI In Railways: A Maintenance As A Service Approach

The Key Cost-Effective Maintenance Initiatives That Deliver Value For Money & Extended Asset Life

Is Your Workshop Already Digital? How To Make The Most Of Integrated Rolling Stock Maintenance

Self-Learning AI For Unified Protection Of IT & OT In Rail Systems

How Can The Latest Innovations Drive The Reduction Of Rolling Stock Maintenance Costs

The Critical Dos And Don'ts In A High Quality Data Driven Transformation In Rail: Case Study Rotterdam Metros & Trams; Digitalisation & IoT Journey

Wheelset Management Using Accurate Realtime Information – More Life for Less Work!

Rolling Stock Maintenance: Identifying The Key Steps For CBM Implementation

How On-board IoT Solutions Can Improve ROI & Safety Of Rolling Stock

Depot Planning & Refurbishment To Incorporate New Technology – Real-Time Robotized Maintenance of Wheelsets

Convergence Of AI, 5G AND LiDAR For Digital Twins In Rail

Rail Digital Twins For Rolling Stock Maintenance Analytics: An Industrial AI approach

Reducing Maintenance Cost & Failures With Successful Predictive Maintenance

Monitoring Of Driveline Components & Inboard Bearings With RailBAM-IB

How Wayside Condition Monitoring Is Becoming More Intelligent

Diagnostic & Monitoring Technologies For Rail Infrastructure

Big Data Strategy For Track & Asset Maintenance

We Won The Finnish Commuter Rail Tender: How Did We Do It? Key Factors For Winning The Helsinki Regional Transport Tender: What Issues Need To Be Taken Into Account As A Fleet Maintainer

Digital Maintenance As A Game Changer – Is There a Future For Data-Driven Maintenance?

Digital Future Of Infrastructure Maintenance – Pros & Cons Of Different Solutions

Adopting Model-Based Systems Engineering For Rolling Stock Development

Passenger Experience Design

The TBOGI-TR System: Transit & Metro


Tyre Exchange Station Of Tyred Wheel Mounted On An Inboard Bearings Passenger Car Bogie

VORTEX IOT Explaining Rodio

Diagnostic & Monitoring Technologies For Infrastructure Image Video