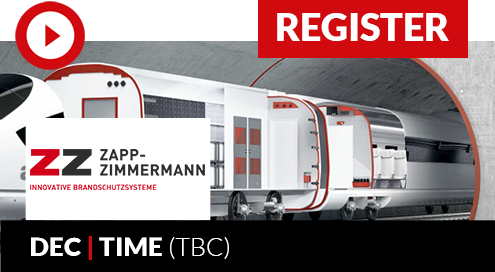 Fire Resistance Of Intumescent Materials For Rolling Stock: EN 45545-3
Markus Dziuba, Senior Sales Manager, ZAPP-ZIMMERMANN GmbH.
General requirements according to EN 45545-3

Specific requirements according to EN 45545-3

Intumescent materials for fire stopping

Fire testing at certified laboratories

ZZ® Products in fire testing
Rolling Stock Fire Safety & Protection Innovation 2023
TechTalk Webinar Series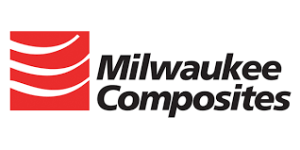 Fri. 8 Dec
9:00 (CET) OnDemand
Fire Properties of Upholstery and Fire Resistance of the Complete Passenger Seat

laboratory tests of fire properties of complete railway seats and upholstery systems used for their construction

Requirement for fire behaviours of materials and components

Heat release, smoke production and mass loss rate

The Influence of the Ignition Source on Passenger Seat Burning
Fri. 8 Dec
11:00 (CET) OnDemand
Heavy Duty Fire Detection & Extinguishing Systems For The Safety Of Tunnelling Projects

Paul Van Trigt, CEO, Aero-X AG
Why is fire safety so important in tunnelling projects

What are the system requirements in tunnelling projects

How can Aero-X support mitigating the risks in the tunnelling projects

Aero-X heavy duty fire detection and suppression systems

Aerosol fire suppression design, installation, maintenance.
Fri. 8 Dec
13:00 (CET) OnDemand
Fire Fighting for Railway Vehicles, Tunnels and Metro Stations

Advanced Water Mist Fire Protection Systems

Design and application of high-pressure water mist sprinkler systems

The protection of rolling stock presents specific challenges for fire fighting. The fire must be rapidly brought under control to allow for the evacuation of passengers and crew, and the continuation of operation must be guaranteed, all within the spatial and weight confines of a railway vehicle moving at high speeds.
Fri. 8 Dec
15:00 (CET) OnDemand
Designing The Future Of Post-Covid Rail Interiors

Perspective on the post-pandemic rail landscape

What will future carriages look like following the coronavirus outbreak, and the changes we can expect to see on the fabrics within them?

How to adapt to new customer requirements

Flammability standards and aesthetic preferences are continuously changing, and, as a result textiles have to meet new demands

Move towards 'wipe clean' seating covers, with hard plastic, vinyl and polyurethanes becoming the preferred choice?

What are the trends in the fabrics sector?

Are customers changing what they're asking for, a greater focus on sustainability?
EN45545 Implications and Options for Rail Component Manufacturers: Achieving HL3 With Cellbond™ Phenolic Resins

Using intumescent gelcoats and polyester resins with flame retardant fillers

Polyester resins filled with flame retardants

Polyester resins filled with flame retardants

Achieving HL3 in a cost effective manner

Fire, smoke and toxicity performance

Processability: Ease of use for consistent quality

Safety: Mechanical performance under fire
Rail Industry Adhesives And Sealants For Safety And Comfort

Safety, comfort, durability and efficiency are key factors in manufacturing railway vehicles such as trains, trams and underground trains.

Among other materials, adhesives and sealants play a crucial role in the production process and finished product.

Sealants and adhesives for rail transport are used in the interiors and exteriors of rail vehicles throughout their lifecycle from design and production to field service and maintenance.

Specialist rail industry silicones, MS polymers, contact adhesives and 2K polyurethanes

Sealant and adhesive materials for rail exterior
Fire Protection Coatings For Rolling Stock

Fire protection coatings for Rolling Stock: Designing to widthstand the highest climatic and mechanical loads

Fire Protection Coatings – stop the spread of fire and increase the evacuation time for passengers
Sustainable Materials For Railway Interior

Where are we at the moment and how can we improve on sustainability

Eco-Design: A Pathway towards sustainable mobility

Improve sustainability, safety, lightweighting and manufacturing efficiencies

If you are interested in presenting a webinar as part of this years Rolling Stock Fire Safety And Interiors Innovation TechTalk Series, please contact us on info@we-rail.com and a member of our team will be in touch with you shortly